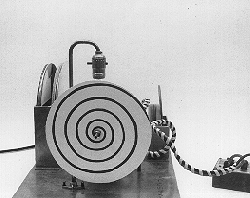 O4-24: DISTORTED FACE ILLUSION
PURPOSE: Classic distorted face illusion.
DESCRIPTION: Stare at the spiral disc at a fairly close distance (a few feet is best) for about thirty seconds while it is rotating at about one revolution per second. Then stare from a close distance (a couple of feet) at your neighbor's face. A distortion of the face will be perceived due to the optical channel activated by the rotating spiral.
SUGGESTIONS:
REFERENCES: (PIRA unknown.)
EQUIPMENT: Slow rotator with spiral.
SETUP TIME: None.
---