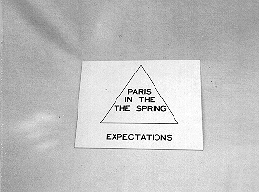 O4-02: PARIS IN THE SPRING - EXPECTATIONS
PURPOSE: Show how your mind affects what you see.
DESCRIPTION: Hold up the sign above for a few seconds, then ask everyone what it says. Most of the class will agree that it says "Paris in the Spring." If you agree, then read the sign again - very carefully. In fact it says PARIS IN THE THE SPRING - two THE's!!
SUGGESTIONS: A slide of this is also available.
REFERENCES: (PIRA unknown.)
EQUIPMENT: Sign.
SETUP TIME: None.
---