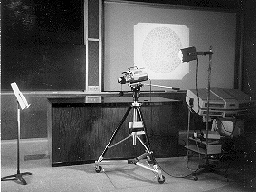 O3-12: COLOR BLINDNESS TESTS WITH VIDEO PROJECTOR
PURPOSE: Test class for color blindness, and demonstrate how color blind people with certain defects see the color blindness tests.
DESCRIPTION: Color blindness test patterns are viewed by a color minicam and displayed on a white board by a three-color video projector.
By switching out one of the three (red, blue, or green) projector colors, we can see how that particular color blindness test looks to an individual with that type of color blindness. Certain test pages with the red switched out seem to work best. Plate 1 is seen as the number "12" irrespective of any color blindness. With red removed no number is seen in plates 2-13, indicating some type of red or red/green deficiency.
SUGGESTIONS:
REFERENCES: (PIRA 6J11.70)
EQUIPMENT: Color blindness test book on music stand, minicam, Fresnel spotlight, and color viedo projector.
SETUP TIME: 5 min.
---