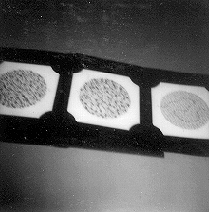 O3-11: COLOR BLINDNESS TESTS
PURPOSE: Test your students for color blindness.
DESCRIPTION: This test manual contains a sequence of 24 color plates with numbers, arranged to determine if the viewer has color blindness to certain colors or combinations of colors. The instruction manual is included.
SUGGESTIONS: Can be viewed for reasonably large groups using an opaque projector.
REFERENCES: (PIRA 6J11.70)
EQUIPMENT:
SETUP TIME: None.
---