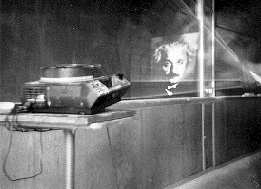 O2-03: PERSISTENCE OF VISION - MAGIC WAND
PURPOSE: Demonstrate persistence of vision in a neat way..
DESCRIPTION: The slide of Einstein (or any of your favorite slides) is focused a few feet from the projector, but unfocussed where it strikes any surface on which it might be identifiable. When a white stick pointer is moved rapidly up and down through the focal plane the image of Einstein can easily be identified. It's persistence of vision, folks.
SUGGESTIONS:
REFERENCES: (PIRA 6J11.30)
EQUIPMENT: Slide projector with slide of Einstein, white stick pointer.
SETUP TIME: None.
---