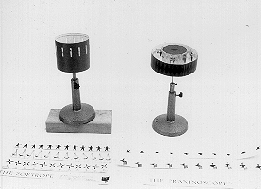 O2-02: ZOETROPE AND PRAXINOSCOPE
PURPOSE: Individual demonstration of persistence of vision.
DESCRIPTION: The zoetrope and the praxinoscope are moving picture toys dating from the 19th century. The doodad is rotated while you view it through the slits on the side, so that a series of still pictures is converted into an apparently moving picture strip.
SUGGESTIONS:
REFERENCES: (PIRA unknown.) See Demonstration Reference File for information on these gizzits.
EQUIPMENT: Zoetrope and praxinoscope on mounts.
SETUP TIME: None.
---