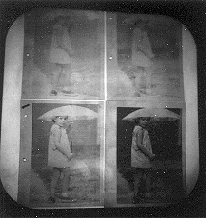 N3-31: COLOR SEPARATION TRANSPARENCIES
PURPOSE: Illustrate color mixing of negative color transparencies.
DESCRIPTION: Four negative color transparencies of the subject girl with umbrella are shown: one taken in yellow light, one taken in cyan light, one taken in magenta light, and one taken in white light. When the three individual subtractive color transparencies are superimposed the result is the same as the white light transparency.
This demonstration illustrates how real color films work.
SUGGESTIONS:
REFERENCES: (PIRA unknown.)
EQUIPMENT: Negative color transparencies on overhead projector.
SETUP TIME: None.
---