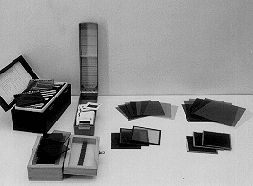 N3-26: COLOR FILTER SETS
PURPOSE: Several color filter sets are available for use as the instructor desires.
DESCRIPTION: The following color filter sets are available.
(1) Set of 13 2"x2" optically polished chance glass filters from 2.5 to 3.0 mm thick.
(2) Set of 17 4"x4" transluscent glass filters with detailed descriptions of each, including some transmission curves.
(3) A set of 8 cheap slide-mounted color filters.
(4) A set of Kodak Wratten filters is also available. This set is used with some of the other demonstrations, including N3-05: COLOR MIXING VIA CHROMATICITY DIAGRAM.
(5) Sets of precision positive and negative lantern slide filters, which are used in demonstrations N3-21, 22, AND 23.
SUGGESTIONS:
REFERENCES: (PIRA 6F10.20)
EQUIPMENT:
SETUP TIME: None.
---