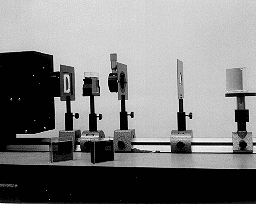 N3-23: COLOR PERCEPTION WITH DYES AND FILTERS
PURPOSE: Compare colors and spectra of dyes and filters.
DESCRIPTION: Using the spectrum setup of demonstration N1-01: PRISMATIC SPECTRUM OF WHITE LIGHT - POINT SOURCE, small tanks of water colored by various colors of food coloring are placed in the spectrum setup just before the slit to see the spectrum of light passing throught the colored water. The color of this water can be seen by holding the tank in the light from an overhead projector. The colors and spectra of water colored by food coloring can be compared with those of positive and negative color filters.
Food coloring produces colors by a negative process, quite like that of negative color filters. Virtually every type of coloration except light, including food color, ink, dye, paints and other pigments produce negative or subtractive colors.
SUGGESTIONS:
REFERENCES: (PIRA 6F10.51)
EQUIPMENT: Bright point source with condenser lens and iris, 10cm focal length cylindrical convex lens, slit, 20cm spherical convex lens, and flint glass prism, with red, green, and blue positive color filters, and cyan, magenta, and yellow negative color filters and overhead projector with baffle; tanks of water colored by red, green and blue food coloring.
SETUP TIME: 5 min.
---