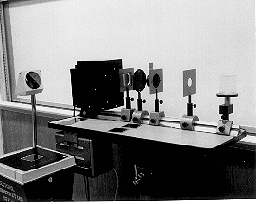 N3-22: SUBTRACTIVE FILTERS AND THEIR SPECTRA
PURPOSE: Compare colors and spectra of negative filters.
DESCRIPTION: Using the spectrum setup of demonstration N1-01: PRISMATIC SPECTRUM OF WHITE LIGHT - POINT SOURCE, negative color filters are positioned in the spectrum setup just before the slit to see the spectrum of light passing through the negative filters. Placing an identical filter on an overhead projector baffle allows us to view the color of the filter and its spectrum simultaneously.
SUGGESTIONS:
REFERENCES: (PIRA 6F10.50)
EQUIPMENT: Bright point source with condenser lens and iris, 10cm focal length cylindrical convex lens, slit, 20cm spherical convex lens, and flint glass prism, with cyan, magenta, and yellow negative color filters and overhead projector with baffle.
SETUP TIME: 5 min.
---