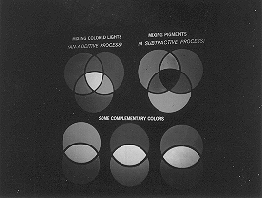 N3-09: COLOR THEORY SLIDE
PURPOSE: Show origin of positive and negative colors.
DESCRIPTION: This slide shows the positive primary colors and their admixtures (top left), the negative primary colors and their admixtures (top right), and pairs of complementary colors (below). Notice that in somewhat simplified model of the physicist the negative colors are the complements of the positive colors.
Positive colors R,G,B, where R+G=Y, R+B=M, G+B=C, and R+G+B=W; negative colors C=W-R, M=W-G, Y=W-B, where M+Y=R, Y+C=G, and M+C=B; and R+C=W, G+M=W, and B+Y=W; and M+Y+C=B. Here R=red, G=green, B=blue, Y=yellow, M=magenta, C=cyan, W=white and B=black (absence of color).
SUGGESTIONS: We have found the 35mm slide version of this lantern slide to have totally inadequate color, which is pretty ridiculous for a slide illustrating colors.
REFERENCES: (PIRA unknown.)
EQUIPMENT: Westcott Color Theory Slide with lantern slide projector.
SETUP TIME: None.
---