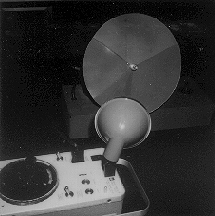 N3-08: STROBOSCOPIC COLOR WHEEL
PURPOSE: Demonstrate color mixing.
DESCRIPTION: Spinning the color wheel on a fast rotator while illuminating it with a bright stroboscope produces a variety of color mixtures. For example, in the picture the fourfold symmetry implies that the color is produced by a mixture of four primaries: G+G+B+B = saturated cyan. Others include 2R+G+G+B = R+G+(R+G+B) = Y+W = unsaturated yellow, and B+B+2R+G =B+R+W = unsaturated magenta.
SUGGESTIONS:
REFERENCES: (PIRA unknown.)
EQUIPMENT: Color wheel and and fast rotator with stroboscope.
SETUP TIME: 5 min.
---