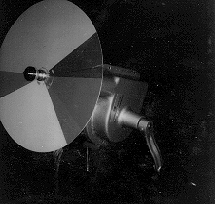 N3-06: COLOR WHEEL
PURPOSE: Demonstrate additive color mixing of lights.
DESCRIPTION: When the color wheel is illuminated by good white light and spun on a fast rotator it appears white (well, almost white).
SUGGESTIONS:
REFERENCES: (PIRA 6F10.25)
EQUIPMENT: Color wheel with fast rotator and goose neck lamp with 100 watt bulb.
SETUP TIME: 5 min..
---