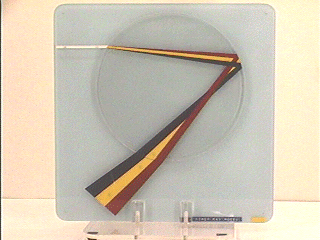 N1-41: RAINDROP RAY MODEL
PURPOSE: Illustrate fromation of a rainbow.
DESCRIPTION: This is a large roughly scaled model showing the refraction of light rays in a raindrop leading to the formation of a rainbow.
SUGGESTIONS: This is a nice one for a hallway display, accompanied by a short description.
REFERENCES: (PIRA unknown.) See Demonstration Reference File for further references regarding formation of rainbows.
EQUIPMENT: Raindrop ray model.
SETUP TIME: None.
---