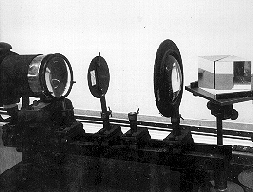 N1-21: COLOR SEPARATION AND RECOMBINATION BY PRISMS
PURPOSE: To show how a prism can recombine previously dispersed white light.
DESCRIPTION: The prismatic spectrum setup of demonstration N1-01: PRISMATIC SPECTRUM OF WHITE LIGHT - POINT SOURCE is used to create a white light prism spectrum. A second identical prism is then positioned in the beam with the base opposite that of the dispersing prism, so that the colors are recombined into a white spot.
SUGGESTIONS:
REFERENCES: (PIRA 6F10.35)
EQUIPMENT: Bright point source with condenser lens and iris, 10cm focal length cylindrical convex lens, slit, 20cm spherical convex lens, and flint glass prism, with second identical "recombining" flint glass prism.
SETUP TIME: 5 min.
---