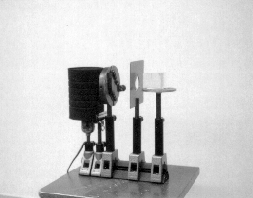 N1-04: PRISMATIC SPECTRUM OF WHITE LIGHT - PORTABLE MODEL
PURPOSE: Small lightweight spectrum demonstration.
DESCRIPTION: Light from a long-filament clear glass incandescent bulb passes through a slit and is focused onto a screen through a small prism. This one is useful for taking to impress your kid's classmates in a school show, but not bright or dispersive enough for use when you have the better versions available.
SUGGESTIONS:
REFERENCES: (PIRA 5N30.10)
EQUIPMENT: Mounted 100 watt clear straight filament bulb with "light shield," slit, 10 cm focal length convex lens, and cheap prism.
SETUP TIME: None.
---