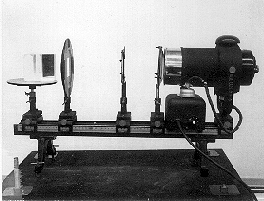 N1-02: PRISMATIC SPECTRUM OF WHITE LIGHT - INCANDESCENT
PURPOSE: Demonstrate continuous spectrum.
DESCRIPTION: An incandescent bulb source with reflector is used to provide a continuous white light spectrum. This setup remains permanently on its optical bench, and is the most readily available. The components are old, and it is not known exactly what items are included, but it does work very nicely, thank you.
SUGGESTIONS:
REFERENCES: (PIRA 5N30.10) Demonstration N1-01: PRISMATIC SPECTRUM OF WHITE LIGHT - POINT SOURCE, is a fancier version of this demonstration but must be set up on request.
EQUIPMENT: Permanently mounted spectrum setup, as photographed.
SETUP TIME: None.
---