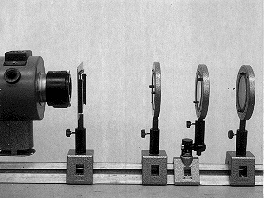 M9-23: CIRCULARLY POLARIZED LIGHT
PURPOSE: To demonstrate properties of circularly polarized light.
DESCRIPTION: Light from a bright point source with condenser and iris passes through a yellow filter and two crossed polaroids onto a distant screen. When the polarizer and analyzer are crossed and the quarter-wave plate is set at 45 degrees, rotating the analyzer does not produce any changes in the intensity of the beam. This is the effect of circular polarization.
SUGGESTIONS:
REFERENCES: (PIRA unknown.) See also demonstration M9-21: QUARTER WAVE PLATE.
EQUIPMENT: Bright point source with condenser and iris, yellow filter, two polaroids with quarter-wave plate on insertable mount between them.
SETUP TIME: 5 min.
---