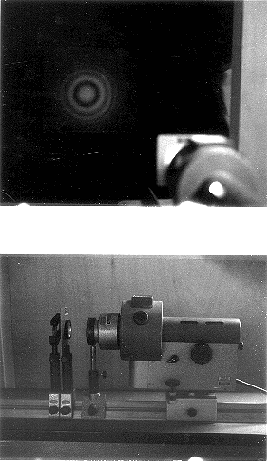 M9-31: OPTICAL RING SIGHT
PURPOSE: Show interference from an optical ring sight.
DESCRIPTION: This is apparently a gizmo that is used as a sight in certain types of guns as a substitute for the crosshairs. It looks a lot like Newton's rings, but it really is a polarization phenomenon. The screen is about 15 feet away.
SUGGESTIONS:
REFERENCES: (PIRA unknown.) See Demonstration Reference File for a relatively complete discussion of how these optical devices work.
EQUIPMENT: Bright point source with condenser lens and iris, 10cm concave lens, and optical ring sight.
SETUP TIME: 5 min.
---