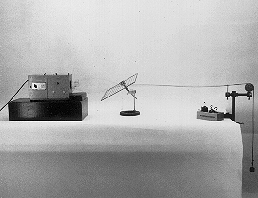 M7-06: ROPE WAVE GENERATOR - POLARIZATION
PURPOSE: To illustrate polarization of a rope wave.
DESCRIPTION: The standing wave produced by the rope wave generator is circular, forming large three-dimensional loops like a jump-rope. Inserting the rope through the grill polarizes the wave in the direction of the grill wires.
SUGGESTIONS:
REFERENCES: (PIRA unknown.)
EQUIPMENT: Rope wave generator on permanent roll-around cart with mounted grill.
SETUP TIME: None.
---