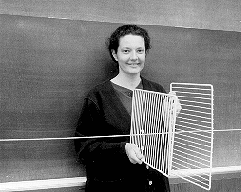 M7-05: ROPE AND COOKIE COOLERS
PURPOSE: To demonstrate the concept of polarization of a transverse wave.
DESCRIPTION: A rope is held at the two ends so that vertical and horizontal polarized waves can be sent from one end to the other. The rope is then inserted between the two cookie coolers. When the two cookie coolers are aligned they can pass a rope wave polarized in that direction but when they are crossed no wave can pass.
Argue that this is a good analogy to light waves, which are also transverse waves. Actually, a light polarizer works a bit differently, but what the heck. See Demonstration M7-01: MICROWAVES - POLARIZATION.
SUGGESTIONS:
REFERENCES: (PIRA unknown.)
EQUIPMENT: Rope and two cookie cooler grates.
SETUP TIME: None.
---