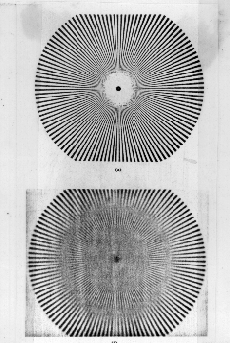 M5-51: OPTICAL TRANSFER FUNCTION - DEP ON SPATIAL FREQ
PURPOSE: To show the effect of defocussing on the (diffraction limited) optical transfer function of a lens (the lens of the projector).
DESCRIPTION: First focus the image of the slide on the screen as shown above. By slight defocussing, you get regions of reversed contrast (light and dark reversed) and rings where there is no image, corresponding to a representation of the optical transfer function's dependence on spatial frequency (Fourier space).
SUGGESTIONS:
REFERENCES: (PIRA unknown.) See Demonstration Reference File for theory references.
EQUIPMENT: Slide projector with test slide as shown.
SETUP TIME: None.
---