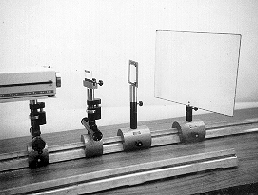 M5-11: LASER DIFFRACTION - PIN POINT
PURPOSE: Diffraction of laser beam by a pin point.
DESCRIPTION: Pin point is mounted on double cross carriage for alignment with the center of the laser beam. Pattern is clearer using a cylindrical lens to focus onto screen.
SUGGESTIONS:
REFERENCES: (PIRA unknown.)
EQUIPMENT: Laser cart with mounted pin point slide.
SETUP TIME: None.
---