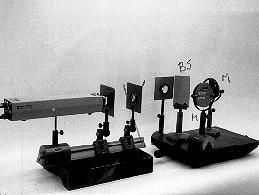 M3-05: MICHELSON INTERFEROMETER - COMPONENT MODEL
PURPOSE: Assemble your own Michelson interferometer using components.
DESCRIPTION: Circular fringes can be produced from a gently defocused laser beam showing very nice spherical two-beam interference. Align the mirrors first without the lens, so that the beams from the two mirrors overlap on the beam splitter an d screen. Then add the diverging lens at the laser.
Block either path and the fringes disappear. Room vibrations cause interesting fringe motion. A finger on the mount can move the pattern by a single fringe. A finger on the edge of one path shows heating of the air.
SUGGESTIONS:
REFERENCES: (PIRA unknown.)
EQUIPMENT: Laser, 5cm concave lens, beamsplitter (front surface half-silvered mirror), two front surface plane mirrors, and 5cm convex lens for projection, all on heavy flat platforms.
SETUP TIME: 20 min.
---