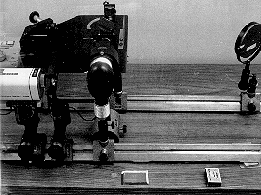 M3-03: MICHELSON INTERFEROMETER - MERCURY LIGHT
PURPOSE: Show mercury light fringes with a Michelson interferometer.
DESCRIPTION: This arrangement will project beautiful mercury fringes of medium brilliance onto a projection screen.
SUGGESTIONS:
REFERENCES: (PIRA unknown.) See Demonstration Reference File for alignment procedure using laser.
EQUIPMENT: Michelson interferometer and mercury light with power supply.
SETUP TIME: 5 min.
---