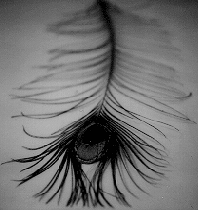 M1-41: PEACOCK FEATHER
PURPOSE: To demonstrate a type of iridescence.
DESCRIPTION: Iridescence is created by the interference of light, here due to scattering of the light off a series of equally-spaced steps in the structure of the feather. The color can be seen to result from interference by observing that the hue (wavelength) changes as you view the feather from slightly different angles.
SUGGESTIONS: Best for individual viewing.
REFERENCES: (PIRA unknown.)
EQUIPMENT: Peacock feather.
SETUP TIME: None.
---