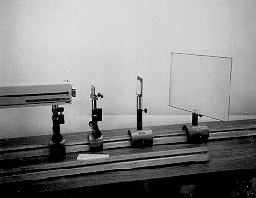 M1-11: LASER DIFFRACTION - FIXED DOUBLE SLITS
PURPOSE: To demonstrate double slit interference using several calibrated pairs of slits.
DESCRIPTION: A slide containing four sets of double slits is positioned in the laser beam using a slide holder on a cross-carriage mount. Any of the four sets of slides can easily be slid into the beam. The four sets of slits have slit width a and separation d as follows:
a=0.04mm, d=0.25mm; a=0.04mm, d=0.50mm;
a=0.08mm, d=0.25mm; a=0.08mm, d=0.05mm.
SUGGESTIONS:
REFERENCES: (PIRA 6D10.10)
EQUIPMENT: Laser cart with fixed double slits.
SETUP TIME: None.
---