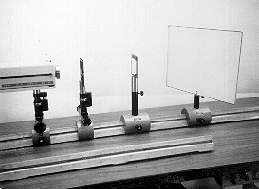 M1-02: LASER DIFFRACTION - VARIABLE SINGLE SLIT
PURPOSE: To demonstrate single slit diffraction.
DESCRIPTION: Position variable single slit in holder on cross-carriage in laser beam to obtain diffraction. Pattern can be shown on a distant screen, or the small screen shown in the picture. Magnification with the cylindrical lens can be used as necessary. Spread in the pattern as the slit is closed can easily be seen.
SUGGESTIONS:
REFERENCES: (PIRA 6C10.15)
EQUIPMENT: Laser cart with variable single slit.
SETUP TIME: None.
---