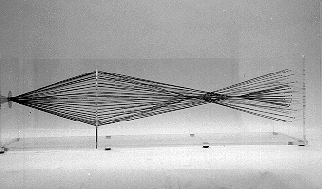 L6-33: STRING MODEL - CHROMATIC ABERRATION
PURPOSE: To illustrate rays for chromatic aberration.
DESCRIPTION: Rays emanating from a single point with the same divergence but with different colors (red, yellow, and blue) are illustrated as they pass through a spherical lens. Blue rays are focused closer to the lens than red rays. The scale of the model is exaggerated for clarity of observation.
SUGGESTIONS:
REFERENCES: (PIRA unknown.) See Demonstration Reference File for information regarding this model.
EQUIPMENT: String model, as photographed.
SETUP TIME: None.
---