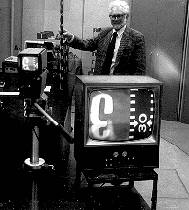 L6-10: IMAGE LOCATION WITH TV CAMERA - LENS
PURPOSE: To locate both real and virtual images of a convex lens.
DESCRIPTION: The lens on the lecture table forms either a real or a virtual image of the number 3 on the homework tray to the right of the table. The TV camera is then focused on that image. Moving the scale to the side of the optic axis, the image location will be the position at which the scale is in focus. This technique can be used to locate either a real or a virtual image.
SUGGESTIONS:
REFERENCES: (PIRA 6A60.40)
EQUIPMENT: TV camera with zoom lens and monitor, 20cm convex lens in holder, homework tray (or other object), scale.
SETUP TIME: 5 min.
---