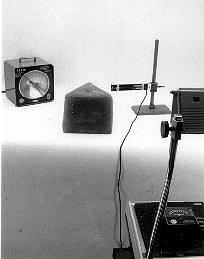 L4-41: MICROWAVES - REFRACTION BY PRISM
PURPOSE: To demonstrate refraction of microwaves by a paraffin prism.
DESCRIPTION: The wax prism bends the microwave beam as it enters or exits the prism. The path of the microwave beam is similar to that of a light beam passing through a glass prism.
SUGGESTIONS:
REFERENCES: (PIRA 6A42.55)
EQUIPMENT: Microwave transmitter and receiver with overhead projector meter, paraffin prism.
SETUP TIME: 5 min.
---