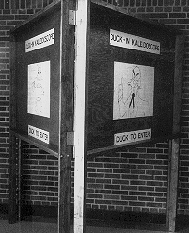 L2-64: DUCK-IN KALEIDOSCOPE
PURPOSE: To allow individuals and small groups of people to experience kaleidoscopic effects.
DESCRIPTION: The kaleidoscope consists of three 4'x6' mirrors forming an equilateral triangle about three feet off the floor. Several series of reflections can be observed as the participant moves about the inside of the kaleidoscope.
This is more or less in permanent residence in the Physics Lecture Hall Lobby. It just isn't one of those things one person can get out quickly. Good for a science museum.
SUGGESTIONS:
REFERENCES: (PIRA unknown.)
EQUIPMENT: Kaleidoscope.
SETUP TIME: None or one day, depending on where you want it.
---