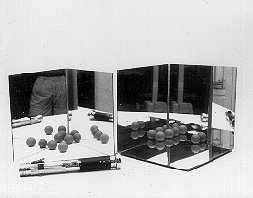 L2-62: MULTIPLE REFLECTIONS WITH MIRROR TILES
PURPOSE: To show multiple reflections in a three-dimensional system of mirrors.
DESCRIPTION: A corner reflector is formed using three orthogonal mirror tiles. Pass the flashlight around the class. Whoever aims the flashlight at the corner will see its reflection, but others (especially those at a larger angle) will not.
A kaleidoscope can be formed with the two vertical mirrors at 60 degrees. Roll the balls around to make a pleasing kaleidoscopic pattern.
SUGGESTIONS:
REFERENCES: (PIRA 6A10.40)
EQUIPMENT: Hinged mirror tiles, stand, flashlight, six ping pong balls.
SETUP TIME: None.
---