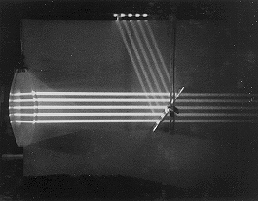 L2-21: OPTICAL BOARD - HALF-SILVERED MIRROR
PURPOSE: To illustrate a half-silvered mirror.
DESCRIPTION: Light from the point source passes through a slit baffle and is collimated into a series of parallel rays by a convex lens. When the rays hit the half-silvered mirror half of the light is reflected and half passes through the mirror.
SUGGESTIONS:
REFERENCES: (PIRA unknown.)
EQUIPMENT: Optical board with half-silvered plane mirror.
SETUP TIME: None.
---