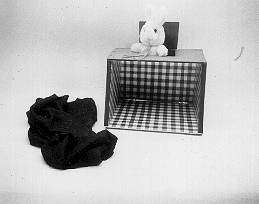 L2-06: MAGIC TRICK - DISAPPEARING RABBIT
PURPOSE: Magic trick using a plane mirror.
DESCRIPTION: The box is first shown to the group. Then the black cloth is placed over the front of the box, the trap door on top of the box opened, and the rabbit put into the box through the trap door. When the black cloth is removed the rabbit has vanished into thin air (behind the mirror).
SUGGESTIONS:
REFERENCES: (PIRA unknown.)
EQUIPMENT: Magic mirror box with rabbit and black cloth.
SETUP TIME: None.
---