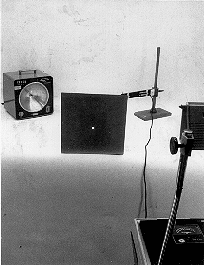 L2-03: MICROWAVES - REFLECTION
PURPOSE: To demonstrate that microwaves undergo specular reflection.
DESCRIPTION: Position the source, reflector, and receiver such that the reflected intensity is maximized. Rotation of the reflector or moving the transmitter or receiver perpendicular to the central ray of the microwave beam will reduce the intensity by making the angles of incidence and reflection unequal.
SUGGESTIONS:
REFERENCES: (PIRA 6A10.18)
EQUIPMENT: Microwave transmitter, aluminum reflecting sheet, and microwave receiver with overhead 10 microamp projection meter on overhead projector.
SETUP TIME: 5 min.
---