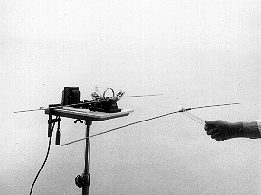 K8-42: RADIOWAVES - ENERGY AND DIPOLE PATTERN
PURPOSE: To demonstrate that energy is transmitted in electromagnetic waves and to show the radiation pattern of the dipole antenna.
DESCRIPTION: The receiving antenna can be moved around in space, keeping the two antennas parallel, to observe the dipole radiation pattern. Rotating the receiving antenna to a vertical orientation shows that the radiowaves are polarized.
SUGGESTIONS:
REFERENCES: (PIRA 5N10.60)
EQUIPMENT: Radiowave transmitter and dipole antenna with light bulb indicator.
SETUP TIME: 5 min.
---