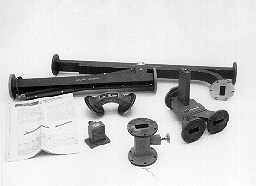 K8-21: MICROWAVES - WAVEGUIDES
PURPOSE: To see what microwave waveguide components look like and to discuss their functions.
DESCRIPTION: Six microwave system components are available for inspection. Also provided is descriptive material from a catalog for some of these components.
SUGGESTIONS:
REFERENCES: (PIRA unknown.)
EQUIPMENT: Microwave waveguide components: directional coupler, noise source, adapter, attenuator, power mixer, E bend; descriptive literature.
SETUP TIME: None.
---