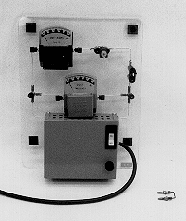 K5-43: NON-OHMIC DEVICE - V VS. I
PURPOSE: To demonstrate the non-linearity of the V vs. I curve for a diode.
DESCRIPTION: A zener diode is connected in series with a resistor across the output of a power supply. Observe the current vs. voltage as the voltage is varied. The voltage and current are read from projection meters when the device is placed on an overhead projector.
SUGGESTIONS:
REFERENCES: (PIRA 5M10.50)
EQUIPMENT: Ohm's law apparatus with zener diode.
SETUP TIME: None.
---