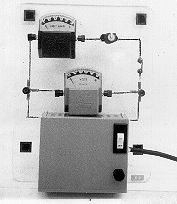 K5-31: OHM'S LAW
PURPOSE: To demonstrate V=IR.
DESCRIPTION: This setup, including variable voltage power supply, voltmeter, ammeter, and plug for resistor, sits on an overhead projector; the circuit is clearly visible. Changing the voltage produces an appropriate change of current. Several resistors can be used.
SUGGESTIONS:
REFERENCES: (PIRA 5F10.10)
EQUIPMENT: Ohm's law demonstrator, overhead projector.
SETUP TIME: None.
---