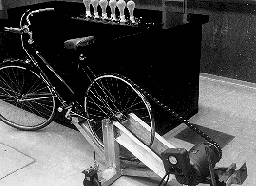 K4-07: BICYCLE GENERATOR
PURPOSE: To demonstrate large-scale generation of 110 VAC.
DESCRIPTION: Pedaling the bicycle generates 110 VAC, which can be used to light an array of five 110 volt 150 watt lights. The sum, totaling 750 watts or about one horsepower when fully lit, can be verified using the voltmeter on the generator housing. See how many students can actually generate close to a horsepower for a short period of time. Start with one bulb on, then switch on four more while pedaling to feel the effect of the load.
This is a dramatic demonstration and can be used very effectively in class.
SUGGESTIONS:
REFERENCES: (PIRA 5K40.83)
EQUIPMENT: Bicycle generator with light bulb array load.
SETUP TIME: None.
---