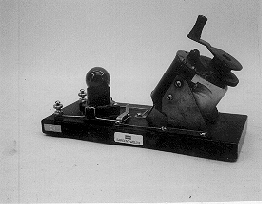 K4-02: MAGNETOELECTRIC GENERATOR WITH LAMP
PURPOSE: To demonstrate a small 110VAC magnetoelectric generator.
DESCRIPTION: Crank the handle to light the bulb. Tell your students to hold it down while cranking by putting their hand across the output terminals.
SUGGESTIONS:
REFERENCES: (PIRA 5K40.80)
EQUIPMENT: Generator with small 110 VAC red lamp.
SETUP TIME: None.
---