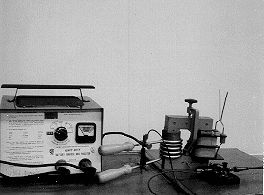 K3-02: DEMOUNTABLE TRANSFORMER - SINGLE SPARKS
PURPOSE: To demonstrate induction of large voltages by a large secondary-to-primary turn ratio.
DESCRIPTION: A six-volt primary source is switched on and off to a five-turn transformer primary coil. The 23,000-turn secondary produces enough voltage to cause a significant arc between wires connected to the transformer secondary.
SUGGESTIONS:
REFERENCES: (PIRA 5K30.20)
EQUIPMENT: Demountable transformer core with five-turn primary coil and 23,000-turn secondary coil with Jacob's ladder wires, six-volt battery charger, momentary switch.
SETUP TIME: 5 min.
---