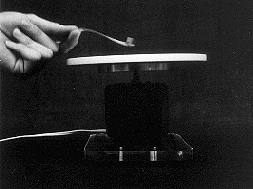 K2-46: MAGNET LEVITATION ABOVE SPINNING DISC
PURPOSE: To demonstrate Lenz's law in a dramatic way.
DESCRIPTION: A small rare-earth magnet is glued onto a short plastic strip, and held above a rapidly spinning aluminum disc. Eddy currents in the disc create a magnetic field which levitates the magnet. Let the magnet hang on the disc at rest, then start the rotator.
SUGGESTIONS:
REFERENCES: (PIRA 5K20.40)
EQUIPMENT: Aluminum disc mounted on fast rotator, rare-earth magnet glued to plastic strip.
SETUP TIME: None.
---