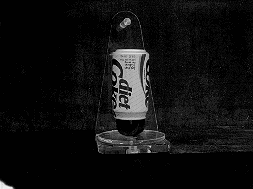 K2-45: EDDY CURRENTS - MAGNET AND SOFT DRINK CAN
PURPOSE: To demonstrate eddy currents and Lenz's law.
DESCRIPTION: A soda can is suspended by a nylon filament over a horseshoe magnet that can rotate on a plastic disc. When the magnet is rotated, the force on the can due to Lenz's law causes the can to rotate in the same direction as the magnet.
SUGGESTIONS:
REFERENCES: (PIRA unknown.)
EQUIPMENT: Assembly with soda can hanging from nylon filament and rotating horseshoe magnet, as photographed.
SETUP TIME: None.
---