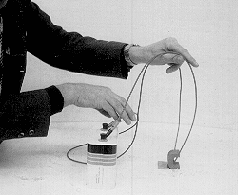 K1-04: FORCE ON CURRENT IN MAGNETIC FIELD - PORTABLE
PURPOSE: To demonstrate the force on a current-carrying wire in a magnetic field.
DESCRIPTION: A wire is placed or held between the poles of a small horseshoe magnet. When the ends of the wire are touched to the terminals of a 6-volt battery the wire jumps out of the magnet. The current in the wire or the orientation of the magnet can be changed to investigate the directions of the vectors involved.
SUGGESTIONS:
REFERENCES: (PIRA 5H40.30)
EQUIPMENT: Banana plug wire, small horseshoe magnet, and 6-volt battery.
SETUP TIME: None.
---