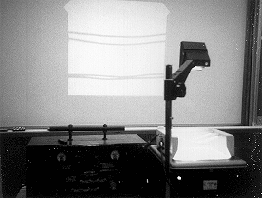 K1-02: FORCE BETWEEN CURRENT-CARRYING WIRES - PROJECTION
PURPOSE: To demonstrate the force between two adjacent parallel current-carrying wires.
DESCRIPTION: Two pairs of wires are included in an overhead projector setup: one carries parallel currents and the other carries antiparallel currents. Connect power supply to the desired wires. Parallel currents attract and antiparallel currents repel.
SUGGESTIONS:
REFERENCES: (PIRA 5H40.10)
EQUIPMENT: Parallel and antiparallel wire projection device and power supply.
SETUP TIME: None.
---