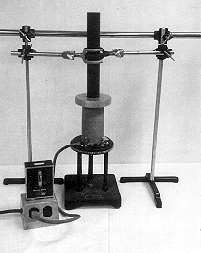 J6-31: FORCE ON SOLENOID CORE
PURPOSE: To demonstrate the force exerted on the core of an electromagnet.
DESCRIPTION: When the switch is on, the force between the coil and the iron core suspends the coil and base a few inches off the table.
SUGGESTIONS:
REFERENCES: (PIRA 5H25.25)
EQUIPMENT: Coil and base with core, stands and clamps to support core, switch.
SETUP TIME: 10 min.
---