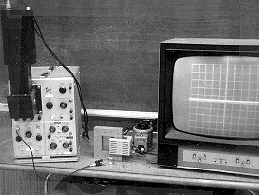 J6-21: MAGNETIC FIELD IN GAP OF ELECTROMAGNET
PURPOSE: To semi-quantitatively measure the magnetic field in the air gap of a magnet.
DESCRIPTION: Using a magnet with a square yoke, separate the top yoke member, creating two gaps in the yoke. Into one gap place a small search coil; into the other place a non-magnetic shim. As the gap length h is increased the field B(gap) decreases:
B(gap) = mu(0) N i / h,
where N is the number of turns and i is the current in the coil.
SUGGESTIONS:
REFERENCES: (PIRA unknown.) See Demonstration Reference File for further information and derivation of equations.
EQUIPMENT: Demountable transformer, oscilloscope with TV display, variac and search coil.
SETUP TIME: 10 min.
---