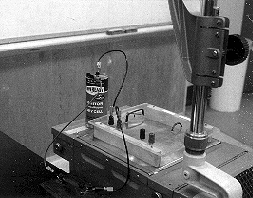 J5-18: OERSTED EXPERIMENT
PURPOSE: A compass needle is mounted directly below a wire on a clear plastic sheet which is positioned on an overhead projector. When a current flows in the wire the compass needle lines up perpendicular to the wire, showing that the current-carrying wire produces a magnetic field perpendicular to the wire. The action is viewed using an overhead projector.
DESCRIPTION:
SUGGESTIONS:
REFERENCES: (PIRA 5H10.20)
EQUIPMENT: Small coil mounted in plastic base with compass needle attached, battery, and overhead projector.
SETUP TIME: None.
---